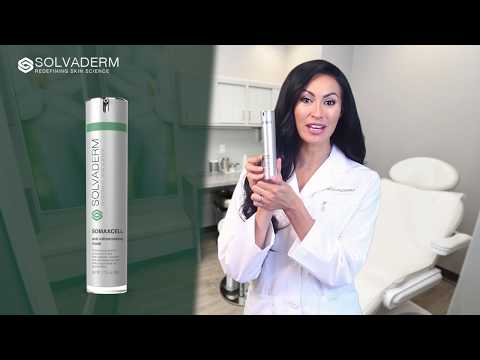 Revolutionizing
Cosmetic Dermatology
Discover Solvaderm's Professional Strength Products For Healthier And More Beautiful Skin.
Rich in natural anti-aging ingredients, the Somaxcell rejuvenating facial mask has multiple benefits for all skin types, especially those that are dry, damaged and mature. Somaxcell's nutrient-packed formula is delivered directly to the skin via a water resistant, lightweight polymer film that won't clog pores or leave a greasy residue, countering the harmful, prematurely aging effects of free radical activity and environmental stress. With a blend of powerful plant-based cell fortifiers,  potent antioxidants and omega-3 fatty acids, the transparent mask uses an innovative transdermal delivery system which allows the key ingredients to start working immediately upon application. Penetrating deep below the skin surface, the oxygenating formula restores vital levels of collagen and elastin while locking in moisture for long-lasting hydration. Overnight, skin is totally transformed, becoming soft and supple with a beautifully rejuvenated appearance.
Somaxcell Usage
After cleansing and toning the skin, apply Somaxcell to the facial area, avoiding the eyes and mouth. Allow Somaxcell to remain on the skin for approximately 20 minutes until completely dry or leave on overnight for best results. This professional strength facial mask can be applied daily or as often as required, and works optimally when used with other Solvaderm skincare solutions. Somaxcell's powerful blend of botanicals has benefits for all areas of the facial skin especially those prone to visible signs of aging including the forehead, cheeks and under the eyes.
Somaxcell Ingredients
White Oak Bark Extract: The growth enzymes extracted from the bark of the White Oak tree are rich in quercetin and tannins that eliminate harmful toxins in the skin, reducing inflammation and soothing irritation. Its potent antioxidant content ensures skin receives ongoing protection from cell-damaging free radicals.
Chinese Basil: Rich in protective Omega-3 fatty acids, Chinese Basil reduces inflammation, supports the skin structure and promotes the detoxification process. With the additional benefits of antioxidants, the herb improves numerous signs of aging such as fine lines around the eyes and deep-set forehead wrinkles.
Comfrey Extract: Comfrey's antioxidant content provides protection against skin-damaging free radicals while its high levels of Allantoin promote healing, stimulate new tissue growth and calm dry, rough skin that's easily irritated.
Açai Fruit Extract: With an amazing ability to grow and thrive in the most extreme conditions, the Açai Palm tree produces fruit that naturally strengthens the skin's own defenses, making it able to withstand potentially damaging environmental stressors. Rich in anti-aging nutrients, this remarkable fruit provides complete nourishment for dry, mature skin, reducing multiple signs of aging.
Psyllium Extract: Containing numerous minerals, vitamins and fatty acids, Psyllium Extract improves skin softness and promotes elasticity, making it more supple and less susceptible to developing lines and wrinkles. A natural exfoliant, it eliminates dull, dead skin cells for a visibly brighter, refreshed complexion.
Ginseng Extract: This powerhouse of skin-friendly nutrients encourages long-term hydration to combat chronic dryness, and supports collagen synthesis, strengthening the skin matrix and making it more resistant to the natural aging process.
Honey Extract: Known for its superior anti-bacterial qualities, honey protects against skin infections and promotes faster healing. A powerful emollient, it reduces dry, scaly skin, leaving it soft and supple.
Benefits
Somaxcell's breathable, lightweight facial mask infuses skin with an array of anti-aging nutrients, working overnight to revitalize and rejuvenate the complexion. Suitable for all skin types, when used regularly Somaxcell provides the following benefits:
Locks in moisture for long-lasting hydration, combating dull, dry skin that is susceptible to premature aging
Protects from free radicals with a blend of plant-based growth enzymes and powerful antioxidants, increasing skin cell health and longevity
Reduces inflammation and skin irritation while accelerating natural healing processes
Stimulates the synthesis of collagen and elastin proteins, fortifying the skin structure for an increase in elasticity and a youthful suppleness
Delays the development of fine lines, wrinkles and other visible signs of aging by strengthening the skin's self-defense mechanisms
The FDA has not evaluated these statements and this product is not intended to cure or prevent any specific skin condition. Remember to read our labels and ingredient lists carefully and always follow the directions for application. If you have a history of skin allergies, a skin patch test is recommended before use. Avoid ingredients that are known to trigger an allergic reaction and discontinue use immediately should a reaction occur.