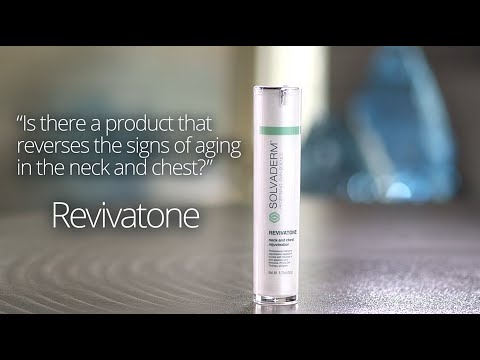 Revolutionizing
Cosmetic Dermatology
Discover Solvaderm's Professional Strength Products For Healthier And More Beautiful Skin.
Revivatone is an advanced, reparative solution, specifically designed to target and transform mature skin in the neck and chest area. It works both on the surface of your skin and beneath it to improve its appearance and structure, resulting in a softer, more even-textured complexion and tighter, firmer skin. The dual-peptide complex in this professional strength formula increases collagen levels in your skin to fortify it beneath the surface, making your skin tauter, toned, and more resilient. The 'lifting' effects of this powerful product restore your skin's recoil and youthful appearance while its ultra-rich moisturizers revive your complexion's overall softness, suppleness, and glow.
Usage
Dot Revivatone over the entire neck and chest area after cleansing and toning, massaging in until absorbed. For best results, this product should be used daily as part of the morning and evening skincare routine.
Ingredients
Hexapeptide-10: improves the structure of the dermo epidermal junction, reducing the looseness and sagging that often affects the skin on the neck and chest as we age.
Acetyl Dipeptide-13: boosts the production of collagen fibers to produce denser skin that is less prone to aging prematurely.
Hyaluronic Acid: enhances hydration levels in the skin for a long-lasting plump, smooth texture.
Squalane: derived from olive oil, this natural moisturizer absorbs quickly into the skin, leaving it silky soft with fewer visible lines, creases and wrinkles.
Glycerin: a powerful humectant that holds moisture in the skin and forms a natural barrier to prevent loss of hydration.
Benefits
Is specifically designed to treat the vulnerable skin on the neck and chest
Fortifies the skin to prevent further damage
Promotes firmness and elasticity, giving the skin a more youthful appearance
Plumps and smooths the skin, reducing the severity of lines and wrinkles
Strengthens the skin's protective barrier to prevent loss of moisture
Is suitable for all skin types and can easily be incorporated into the existing daily routine
The FDA has not evaluated these statements and this product is not intended to cure or prevent any specific skin condition. Remember to read our labels and ingredient lists carefully and always follow the directions for application. If you have a history of skin allergies, a skin patch test is recommended before use. Avoid ingredients that are known to trigger an allergic reaction and discontinue use immediately should a reaction occur.