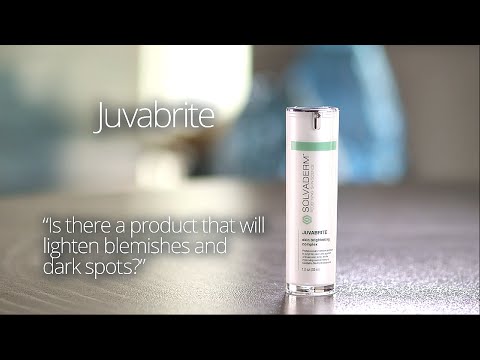 Revolutionizing
Cosmetic Dermatology
Discover Solvaderm's Professional Strength Products For Healthier And More Beautiful Skin.
Juvabrite is an advanced, professional-strength, skin-brightening complex that lightens age spots and other irregularities in skin pigmentation to give you a healthier, more youthful appearance. This transformative treatment contains powerful lightening agents and a proprietary blend of other ingredients that will restore your skin's natural color, tone, and texture without causing irritation or other unwanted effects. With regular daily use, it can drastically diminish the appearance of discoloration, effectively erasing numerous signs of age from your complexion.
Usage
Juvabrite can be used twice a day as part of the regular skincare routine. Apply a thin layer of the product to the entire face or just where discoloration occurs. Juvabrite should be used consistently to produce optimal results.
Ingredients
Seaweed Extract: rich in vitamins and minerals, it replenishes nutrients that skin requires for faster cellular turnover. Seaweed also provides a boost of moisture that significantly improves the dewiness, softness, and smoothness of your skin.
Hyaluronic Acid: attracts moisture from the air and keeps it locked in the skin, for plumper skin that has fewer visible lines and wrinkles.
Vitis Vinifera (Grape) Fruit Extract: an antioxidant that has been shown to be 25 times more powerful than Vitamin C, and up to 50 times more powerful than Vitamin E. This extract also supports the mechanisms that renew and restore the skin.
Morus Bombycis Root Extract: contains natural arbutin which helps lighten dark spots and brighten skin's overall tone and complexion. It also helps slow the production of the skin pigment melanin to reduce the appearance of further discoloration.
Malva Sylvestris (Mallow) Extract: this ingredient has strong anti-inflammatory properties. It soothes and calms irritated skin to help prevent damage that can lead to wrinkles and other visible signs of aging.
Mentha Piperita (Peppermint) Extract: invigorates the skin, boosting the circulation for a healthy glow. As a natural anti-bacterial, it helps prevent breakouts and keeps the skin clear and blemish free.
Primula Veris (Primula) Extract: with powerful antiseptic properties, this extract has benefits for skin that is prone to acne and irritation.
Alchemilla Vulgaris (Lady's Mantle) Extract: a strong antioxidant that keeps cells protected from harmful free radical damage, extending their lifespan for a longer-lasting youthfulness.
Veronica Officinalis (Speedwell Herb) Extract: as a potent healing extract, it has natural anti-inflammatory properties that reduces redness, swelling and irritation.
Benefits
Safely fades areas of hyperpigmentation and discoloration
Slows the production of melanin so skin remains clear and even toned
Has anti-inflammatory properties to reduce swelling and irritation
Protects the cells from free radical damage with powerful antioxidants
Creates a brighter complexion with a youthful radiance
Non-greasy and suitable for all skin types
The FDA has not evaluated these statements and this product is not intended to cure or prevent any specific skin condition. Remember to read our labels and ingredient lists carefully and always follow the directions for application. If you have a history of skin allergies, a skin patch test is recommended before use. Avoid ingredients that are known to trigger an allergic reaction and discontinue use immediately should a reaction occur.