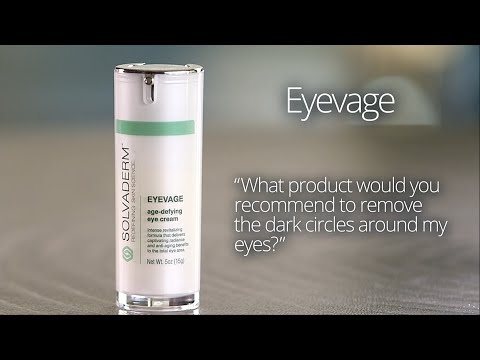 Revolutionizing
Cosmetic Dermatology
Discover Solvaderm's Professional Strength Products For Healthier And More Beautiful Skin.
Eyevage is an advanced, multi-action, anti-aging cream that rejuvenates mature skin in the eye area. Developed by leading dermatologists and clinically perfected to provide optimal results, it contains a unique blend of ingredients power-packed with antioxidants, anti-inflammatory agents, and ultra-conditioning moisturizers. This concentrated, professional strength treatment tightens the appearance of the undereye zone and delivers intense hydration that softens this area and makes it look more supple, younger, and more radiant. Eyevage also soothes the skin and protects it from environmental damage and oxidative stress.
Usage
Apply Eyevage after cleansing, gently massaging the product into the skin around the eyes. It should be applied before your regular moisturizing cream and used twice a day for best results.
Ingredients
Vitamin K: restores your skin's health by improving micro-circulation and fluid drainage. It also has strong anti-inflammatory properties that soothe and calm irritation around the eye area.
Arnica Montana Extract: provides anti-inflammatory benefits and speeds up skin healing.
Glycine Soja (Soybean) Protein: contains a rich complex of peptides that help facilitate faster skin healing and repair. It also calms skin redness and irritation.
Jojoba Seed Oil: absorbs quickly into the skin, restoring moisture levels and increasing suppleness.
Apricot Kernel Oil: a strong antioxidant that helps neutralize free radicals to protect your skin from cellular damage. It also contains a rich blend of fatty acids that support faster skin healing and rejuvenation.
Squalane: deeply moisturizes and conditions the skin. This ingredient fills gaps in the skin matrix, causing the surface of your skin to appear firmer and plumper with less noticeable lines and creases.
Eriobotrya Japonica Extract: improves the quality of collagen fibers, supporting better elasticity and a firmer skin texture.
Benefits
Improves micro-circulation, promoting optimal fluid drainage and reducing undereye discoloration
Speeds the healing and reparation process in damaged skin
Brightens areas of discoloration for a refreshed, revitalized appearance
Protects delicate eye skin from further damage from UV rays and free radicals
Fortifies and smooths the skin, reducing the appearance of wrinkles and fine lines
The FDA has not evaluated these statements and this product is not intended to cure or prevent any specific skin condition. Remember to read our labels and ingredient lists carefully and always follow the directions for application. If you have a history of skin allergies, a skin patch test is recommended before use. Avoid ingredients that are known to trigger an allergic reaction and discontinue use immediately should a reaction occur.